Instructional Continuity – Schedule of Events: Monday, March 23, 2020
Hello, Faculty Community!
Are you ready for Remote Instruction? Button-ups and sweatpants are the new normal for Zoom-based class sessions…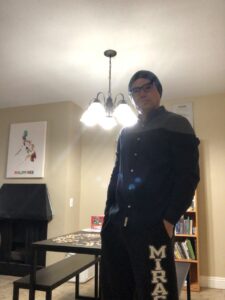 Click here to access the full schedule of events throughout the week.
And click here to enter the Zoom meeting for online workshops (it's the same Zoom meeting for all workshops, all day, all week!)
Okay, so here is the full schedule for Monday, March 23:
10 to 11 am – Jim and Sean: Overview of Support Resources and the Plan for the Week, Q&A
Jim Julius and Sean Davis will walk you through the various resources available to faculty to support your transition to remote instruction. There will be time to address your burning questions as we launch into this unprecedented effort!
11 am to 1 pm – Liezl Madrona: Canvas Basics
Learn the basics of creating and developing a course in Canvas. Participants will get an overview of Canvas' layout and navigation. In addition, participants will learn how to add materials to a course, use Discussions, create and grade Assignments, and create a FrontPage. This workshop will serve as an introduction to, and a general overview of, the Canvas system. We will learn:
The basic navigational links/course menu items in a blank course shell
How to create a Front Page
How to make a course published to students
How to create a Discussion
How to create an Assignment
Participants will have access to free adaptable and accessible Canvas course layouts for rapid course development. Student support pages are included to orient and provide technical support for various tools that may be used in Canvas (such as Studio, Zoom, Assignments, and Quizzes.) Ensure you have all of the essential information students should know and adapt your own Canvas course layout today!
1 to 2 pm – curry mitchell: Connecting with Students in Canvas
A session on using Canvas tools to connect, collaborate, and sustain community with students
curry will share a few simple activities and methods for scaffolding assignments using various Canvas tools: discussions, Google docs shared in Canvas, screencast/videos embedded in announcements, and even quizzes. Then we will spend some time in small groups discussing what Canvas tools might help you deliver your basic collaborative activities to your students remotely.
2 to 3 pm – Liezl Madrona & MiraCosta CE Faculty: Course Demos & Online Teaching Discussion
Are you curious about how other MiraCosta faculty organize and present their Canvas courses? Join some of our great faculty who will showcase their courses that they designed and developed with our 2019-20 CE instructional designer. Find some new ideas about student navigation and leveraging Canvas's built-in tools for rapid course development!
3 to 4 pm – Liezl Madrona: Canvas & Video Accessibility Basics
Many faculty have questions about how to address accessibility requirements for instructional materials in order to support students of disability. When using Canvas to support online teaching, following best practices can help deliver an accessible and usable online class for all students. Learn the top five easy things you can do in Canvas to help all of your students be successful. Participants will be able to:
Determine the best format/strategy for delivering content, whether it should remain as a PDF, in a Word Doc, or a Canvas page.
Explain how formatting impacts assistive technologies' ability to access and interpret information.
Utilize the Rich Content Editor to properly format content pages using the acronym 'LIST'.
Run the Canvas' Page Accessibility Checker UDOIT and interpret its results to remediate inaccessible instructional materials.
Determine a workflow to caption videos based on authorship
***ALL WORKSHOPS WILL BE RECORDED AND MADE AVAILABLE BY THE END OF EACH DAY***
1-1 Drop-in Canvas and Course Design Support via Zoom (Click here to enter the 1-1 support at ANY TIME)
This support is available from 10:00am to 3:00pm AND 7:00pm to 10:00pm
Virtual Happy Hour is from 4:00pm and 5:00pm today. This session will focus on Brainstorming, Sharing, Q&A, Zoom Practicing, and Course Tours.
Click here to enter the Virtual Happy Hour starting at 4:00 pm
See you online!
-Sean and Jim